Blog Archive

Mr. Rook
Rook's Island Series, Part One
by Mimi Jean Pamfiloff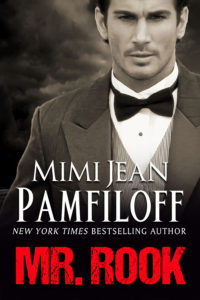 From NEW YORK TIMES Bestseller Mimi Jean Pamfiloff, Comes Part One of Mr. Rook's Island, a Sexy, Dark, Romantic Suspense.
He's Enigmatic, Dangerously Handsome, and COMPLETELY OFF-LIMITS…
The women who vacation on Mr. Rook's exclusive island are looking for one thing and one thing only: to have their wildest romantic fantasies come to life. Pirates, cowboys, billionaires—there's nothing Rook's staff can't deliver.
But when Stephanie Fitzgerald's sister doesn't return after her week in paradise, Stephanie will have to pose as a guest in order to dig for answers. Unfortunately, this means she'll need to get close to the one thing on the island that's not on the menu: the devastatingly handsome and intimidating Mr. Rook. And he's not about to give the island's secrets away.
BUY NOW
Giveaway
a Rafflecopter giveaway
About the Author

MIMI JEAN PAMFILOFF is a USA Today and New York Times bestselling romance author. Although she obtained her MBA and worked for more than fifteen years in the corporate world, she believes that it's never too late to come out of the romance closet and follow your dream. Mimi lives with her Latin Lover hubby, two pirates-in-training (their boys), and the rat terrier duo, Snowflake and Mini Me, in Arizona. She hopes to make you laugh when you need it most and continues to pray daily that leather pants will make a big comeback for men

Sign up for Mimi's mailing list for giveaways and new release news!


Website
|
Facebook
|
Twitter
| Goodreads | Newsletter
Mr. Rook
by
Mimi Jean Pamfiloff
My rating:
5 of 5 stars
Title:
Mr. Rook
Author:
Mimi Jean Pamfiloff
This isn't my first rodeo with Mimi Jean Pamfiloff and just when i think i know what i'm getting myself into, what i'm expecting in her books or even what'll happen in her books, i get hit with the shocker of my day... or maybe week. At this point, i don't know anymore. But one thing is for sure - should have known better. Should have known that Mimi Jean Pamfiloff would blow my mind and then make me more than a little impatient for the next instalments to find out what really happens on Mr. Rook's Fantasy Island.
As you're getting invested in this book, like really getting immersed into it, you really forget that there isn't any explicit sexual acts - yes, there is some mention of it, but nothing like i'm used to seeing from Mimi Jean Pamfiloff in the past. That's not to say that Mr. Rook isn't hot, because it is - the promise of maybe something happening more than makes up for it. I loved the mystery of the island, of the history and of what actually happens during your stay and i know i'll be looking forward almost impatiently for the instalments of the series to finally know more!
View all my reviews