The Ten Club
Book #5 and the FINALE of the King Series
by Mimi Jean Pamfiloff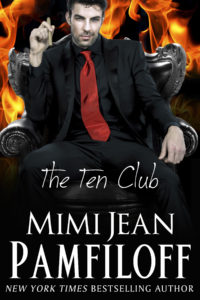 From New York Times Bestseller Mimi Jean Pamfiloff… Book #5 and the FINALE of the King Series HE WANTS TO OWN HER. King doesn't recall dying and he definitely doesn't recall this feisty woman Mia who claims to be his wife. But he's happy to make her his if she'll be obedient and loyal. After all, a king needs a queen, and now that he's back from the dead, this evil billionaire has big plans. SHE WANTS HIM DEAD. Mia Turner made painful sacrifices to save the love of her life from his cursed hell. So when he promised to love and protect her always, she believed him. But after he trades his life to save his brother, she's left all alone with a baby and a broken heart. Until he returns. Evil, more powerful, and with absolutely no memory of her. Can she find a way to bring back the man he once was, or will she have to send him back to hell?

BUY NOW


Giveaway
a Rafflecopter giveaway
About the Author
MIMI JEAN PAMFILOFF is a USA Today and New York Times bestselling romance author. Although she obtained her MBA and worked for more than fifteen years in the corporate world, she believes that it's never too late to come out of the romance closet and follow your dream. Mimi lives with her Latin Lover hubby, two pirates-in-training (their boys), and the rat terrier duo, Snowflake and Mini Me, in Arizona. She hopes to make you laugh when you need it most and continues to pray daily that leather pants will make a big comeback for men Sign up for Mimi's mailing list for giveaways and new release news!
The King Trilogy
99 Cents
Title:
Ten Club
Author:
Mimi Jean Pamfiloff
5+ smashing stars
Who is King and why did I wait so long to meet him? Ok, let me put this right out: Ten Club can be read as a standalone, but trust me, it'll probably be a better read if you've had a chance to read the previous 4 books. And I am speaking from experience- I haven't read any of the previous novels and had no troubles following the storyline, but I still had this feeling that Ten Club came back full circle and if I had had the chance to read the series, my enjoyment would have been ten fold. Mia and King's story is one that i'll be rereading quite soon to find out exactly what they've been through since they first met and even finding out Mack's and Teddi's story has me excited because to see their love last through time, that was something.
4.5 sexy dreams