Leather Pants
Book #2 of the Happy Pants Cafe Series
by Mimi Jean Pamfiloff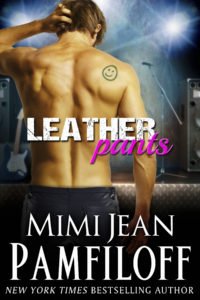 From New York Times Bestseller, Mimi Jean Pamfiloff, Comes Book #2 of The Happy Pants Cafe Series

It Only Takes One Hot Rock Star To Ruin Your Life…

The youngest woman to ever sit on the bench, the Honorable Sarah Rae Alma has busted her butt to get where she is. No fun. No distractions. And definitely no bad boys. In fact, she takes a certain pleasure in crushing their souls—yes, she has her reasons. So when rock-n-roll's most famous bad boy, the legendary Colton Young, enters her court, looking hotter than sin and smugger than hell, she's just itching to serve a little justice. But Sarah's about to make the biggest mistake of her life. And her fate will land squarely in the hands of the world's most notorious rock star rebel. Will he crush her? Or will he tempt her to take a walk on the wild side?
BUY NOW


Giveaway
a Rafflecopter giveaway
About the Author
MIMI JEAN PAMFILOFF is a USA Today and New York Times bestselling romance author. Although she obtained her MBA and worked for more than fifteen years in the corporate world, she believes that it's never too late to come out of the romance closet and follow your dream. Mimi lives with her Latin Lover hubby, two pirates-in-training (their boys), and the rat terrier duo, Snowflake and Mini Me, in Arizona. She hopes to make you laugh when you need it most and continues to pray daily that leather pants will make a big comeback for men Sign up for Mimi's mailing list for giveaways and new release news!
Other books in the series
Happy Pants Cafe (Series Prequel)

BUY LINKS
Tailored for Trouble (Book #1)

BUY LINKS
Leather Pants
by
Mimi Jean Pamfiloff
My rating:
0 of 5 stars
Title:
Leather Pants
Author:
Mimi Jean Pamfiloff
My goodness, Mimi Jean Pamfiloff absolutely knows how to give me that pang in my stomach in knowing that i've missed books from her collection. Leather Pants being the first book i've read from her Happy Pants Cafe series, i can only say that holy buckets, she can deliver like there's no tomorrow. Rockstars have never looked as delicious as Colton does, and even more so when he stands up to the judge that has picked his attention more than he would like to admit. As much as Sarah has worked hard, hated the bad boys that walked in her court to plead their cases and never let herself get distracted by men who would nothing more than to tame the woman who doesn't let herself fall for any man. When they meet up in court, nothing is what it seems and sometimes, people find out that their preconceived opinions needs to be changed...
I don't think i've ever laughed so hard at one of Mimi Jean Pamfiloff's novels before. Like the side splitting, rolling out of your stomach because you can't hold it all in kind of laughing and i don't think she could have written Leather Pants any better than she did. Obviously those damn cookies look so yummy that i'd like to have a plate for myself, but the most unforgettable part has to be watching Sarah's strict rules for herself come crumbling down when it came to Colton. I've become a fan of Mimi Jean Pamfiloff a long while ago, and it's one decision that i haven't regretted ever since, as she keeps me entertained with each new release she does.
View all my reviews