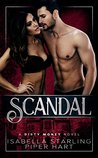 Scandal
by
Isabella Starling
My rating:
5 of 5 stars
Title:
Scandal
Author:
Isabella Starling & Piper Hart
I don't think anything could have prepared me for what this author duo had in mind when they came up with Scandal. When the daughter of a murderer meets the son of the lawyer whose team was responsible for convicting him of the crime, i thought that was pretty much the extent of the major surprises i would come across. Boy was i wrong. So very horribly wrong. Since the entire novel is based on twists and turns that you need to pay attention to so you can figure out exactly what happened and why - trust me, it'll all be worth it in the end, i'm not going to say much more about the plot and what happens.
4.5 sexy dreams
Of course, as i've come to absolutely hope and enjoy from any of Isabella Starling's novels and collaboration, the chemistry between these characters is hot. Like smoldering, i need a cold shower hot. I loved how they were flawed, angry, confused and more than willing to change when they realized that was to be gained at the end. And trust me, it's all completely worth reading because you'll know you'll want to keep reading until more from this series (and i truly hope it's not the end) becomes available. Absolutely loved Scandal and can't wait for more!
View all my reviews