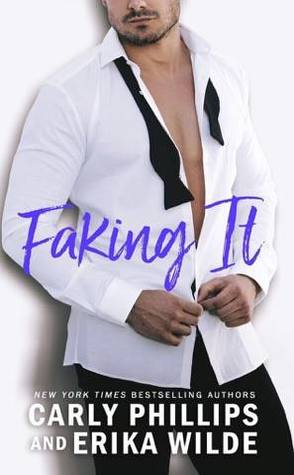 Confirmed bachelor Max Sterling isn't into rescuing damsels in distress, but when the very tempting Hailey Ellison needs his help, there's only one thing for him to do. Step in and pose as her loving fiancé. Except there is nothing fake about his attraction to her, or how much he wants her beneath him in his bed, moaning his name. But what starts as a sexy, flirty, temporary engagement, quickly becomes something more serious that neither one ever anticipated.
Faking It
by
Carly Phillips
My rating:
4 of 5 stars
Title:
Faking It
Author:
Carly Phillips & Erika Wilde
It's the second time that i read a collaborated book by Carly Phillips and Erika Wilde and when they start a story, there's nothing for you to do but get right in there and keep reading until there's nothing left but the last page. It's the kind of story that will make you want to read faster and faster, but at the same time want to savour how the characters make you feel. So it's no wonder that when you have the story about a successful matchmaker who is faking an engagement so that her clients don't get too curious as to how she can match others but can't find anyone for herself and the confirmed realtor bachelor who is lusting after his client makes for a story that catches your eye.
It was an adorable story that makes any woman feel good about themselves. More and more there are novels where the main female character is curvier while the male counterparts are the epitome of fit and sexy as all heck, which is what Hailey and Max are; i though it an adorable story. One that captivated me and gave me the butterfly happy feelings as i read along. I enjoyed how Max was more than patient with Hailey with all her misgivings, especially considering her past. It's the type of story that makes you want to read more from this duo to find out what else they can come up with, and that's exactly what i'll be doing because i know there's so much more that they can offer and make their readers want to ask for more.
View all my reviews